Having an effective executive resume is one of the most important steps to take in your job search. A well-crafted resume will help you stand out from other applicants and make a great first impression on potential employers.
In this article, we'll explore why having an excellent executive resume is essential, offer tips for crafting your resume, and provide sample executive resume examples. Let's get started!
What Is an Executive Resume?
An executive resume is a document that summarizes your professional experience and accomplishments that are relevant to the position you are applying for. Compared to a regular resume, an executive resume should focus more on tangible results and achievements rather than duties and responsibilities.
Executive resumes should also include relevant information that demonstrates your ability to perform the job roles and responsibilities required of an executive-level position. This includes information such as awards, publications, and strategic initiatives you've implemented in previous positions.
Many may consider the cost of getting a professional executive resume written by a professional resume writer. However, the value of having a well-crafted executive resume far surpasses the cost.
Chronological Format
The chronological format is the traditional resume style that focuses on your work experience in reverse-chronological order. It's suited for executives with a long history of consistent career progression as it easily shows off your accomplishments and skills.
Executive Resume Sections
When crafting an executive resume, certain sections should be included to create a comprehensive and compelling document.
Header
This section includes your name, contact information, title or position, years of experience, and any other relevant details you'd like to include.
Summary/Overview
A professional resume summary is where you can explain who you are as a professional in three to five sentences. You should use this section to highlight your skills and abilities as well as list any awards or achievements you have earned. Think of this as the introduction of who you are and what you can bring to the organization.
Skills
Here, you should outline the technical skills and other skills that make you a strong candidate for the job. Make sure to include keywords from the job posting so that employers can easily recognize your qualifications.
Professional Experience
In this section, you should provide an overview of your previous positions and list any relevant accomplishments or contributions. Remember to include the company name, job title, dates of employment, and a brief description of each role.
Education
This is where you'll highlight your educational background. Include the degree you earned, school name and location, and any special awards or honors you received.
Certifications and Awards
In this section, list any certifications or awards that apply to the job position that you received outside of your education. This will demonstrate how your qualifications have been recognized by other organizations in the industry.
Volunteer Work and Other Activities
Including any volunteer work or other activities that you participate in is a great way to show potential employers your commitment and dedication. You can also demonstrate how your skills from outside of the professional world have helped shape who you are as a leader and executive. 
How to Tailor Your Executive Resume to the Job
When applying for an executive-level position, you must tailor your resume to the job description and requirements. To do this effectively:
Understand the Job Description and Requirements
Take some time to review the job posting carefully and note any keywords or qualifications listed in the description. This will help you understand the type of experience and skills employers are looking for in a candidate.
Incorporate Keywords From the Job Posting
Make sure to include any keywords from the job posting in your resume. This will help ensure that your qualifications are easily identifiable by employers, which could move you further along in the hiring process. Using resume writing prompts will ensure that you are using the right target keywords to meet the requirements of the applicant tracking systems.
Highlight Relevant Experience and Skills
It's important to focus on experiences and skills that are most relevant to the job when crafting your executive resume. Take some time to review your work history and highlight any accomplishments or contributions that make you a strong candidate for the position.
5 Tips for Writing an Effective Executive Resume
Writing an effective executive resume can be challenging. Here are five tips to help you create a powerful and impactful document:
Keep It Concise and Targeted
Executive resumes should be concise but still, contain all of the important details about your professional background. Use bullet points when possible to make the document easier to read, and focus on experiences that are most relevant to the job you're applying for.
Avoid Common Resume Mistakes
Carefully review your executive resume for any mistakes or typos before submitting it. Your goal should be to provide employers with polished and professional documents that showcase your skills and qualifications in the best way possible.
Use Powerful Action Verbs
Action verbs help capture the attention of employers and make your experience stand out. Be sure to use strong action verbs that demonstrate your abilities and showcase the impact you've made in previous roles.
Highlight Achievements and Results
When highlighting your achievements, be sure to include any results or tangible examples that show the impact of your work. This will help employers quickly recognize your value as a potential candidate for the role.
Showcase Your Leadership Abilities
If applicable, include any examples of leadership positions you've held throughout your career. This can demonstrate to employers that you have the management skills and abilities necessary to succeed in an executive-level position.
Executive Resumes Examples
Here are two executive resume samples that you can use to craft your executive resume.
Example 1: Vice President Director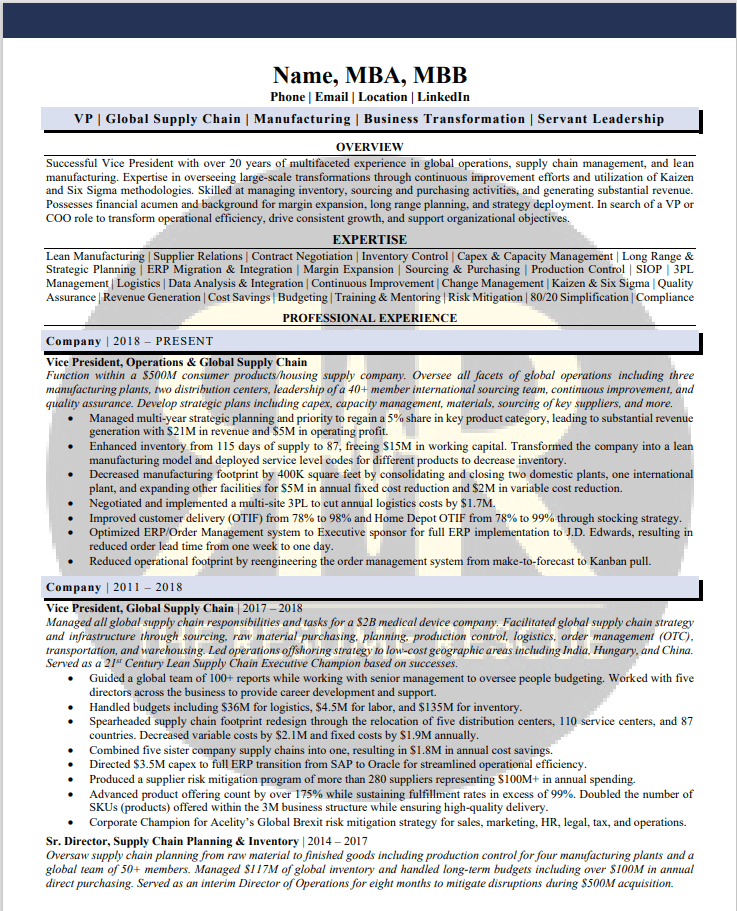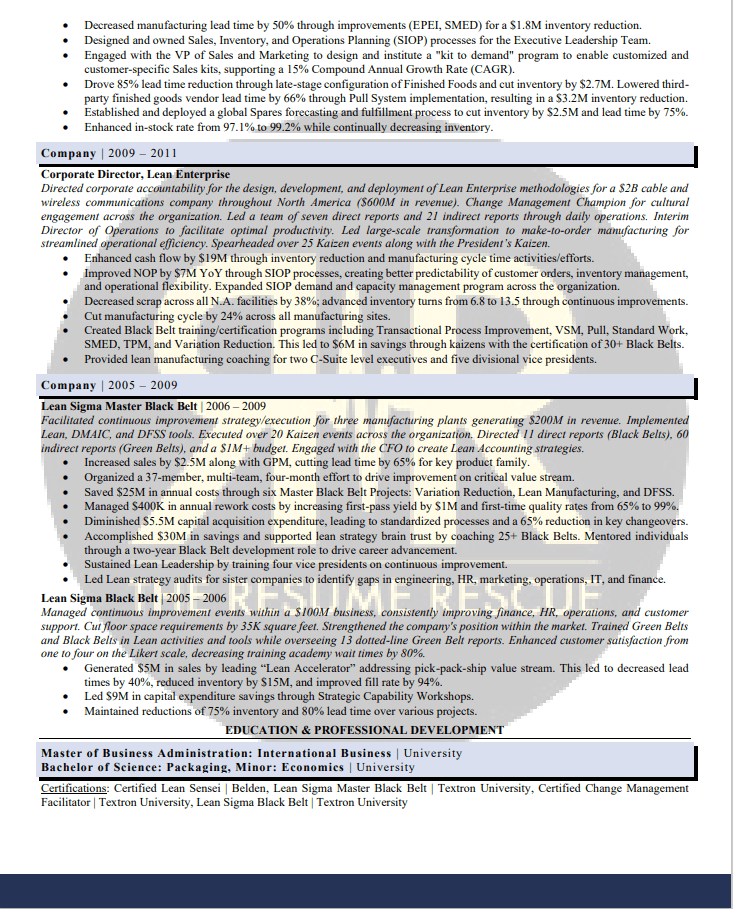 Example 2: C-Level Tech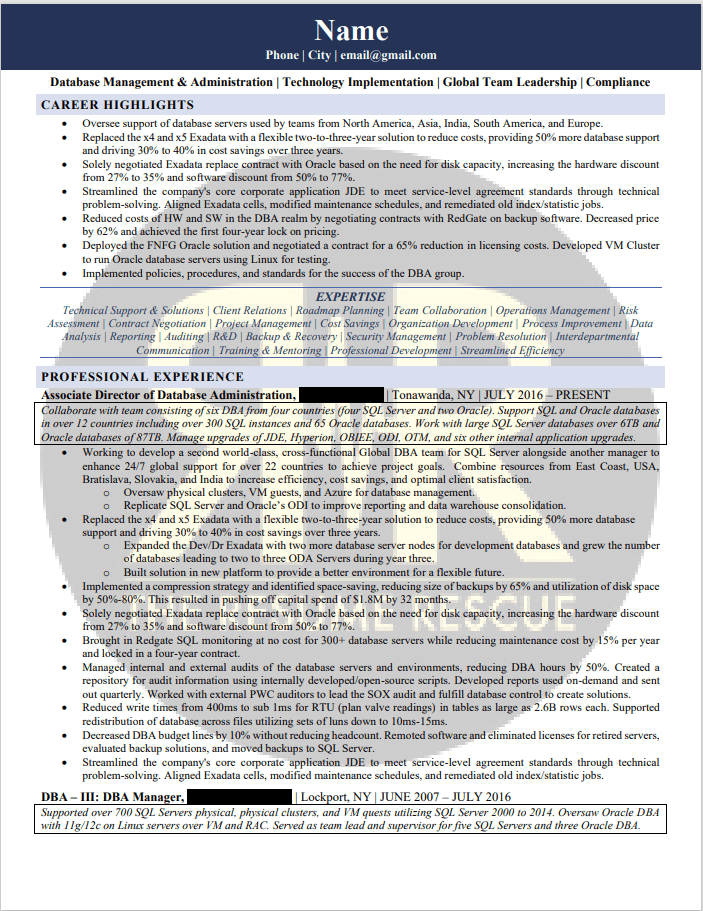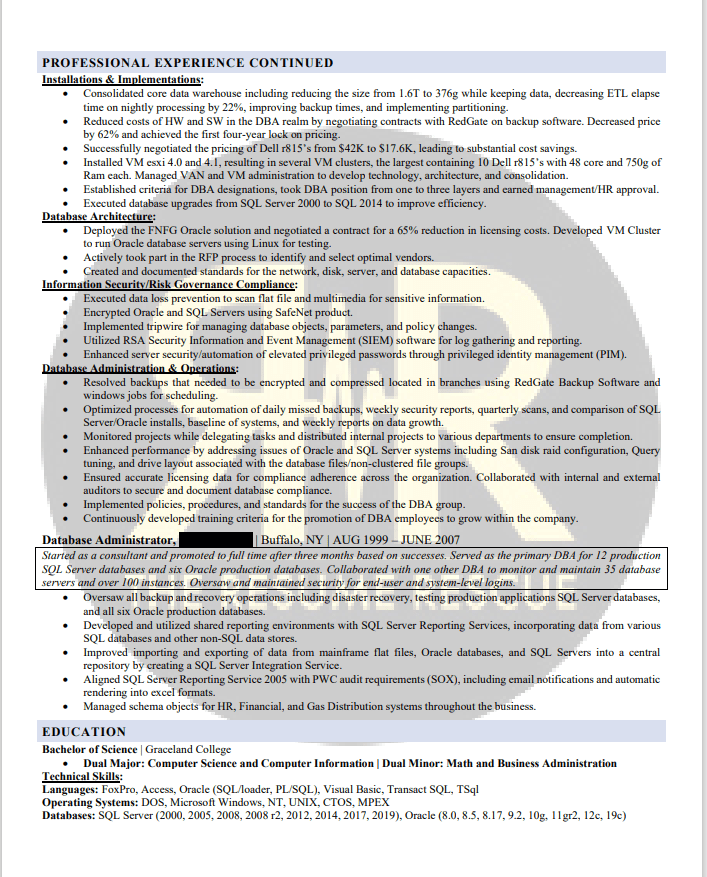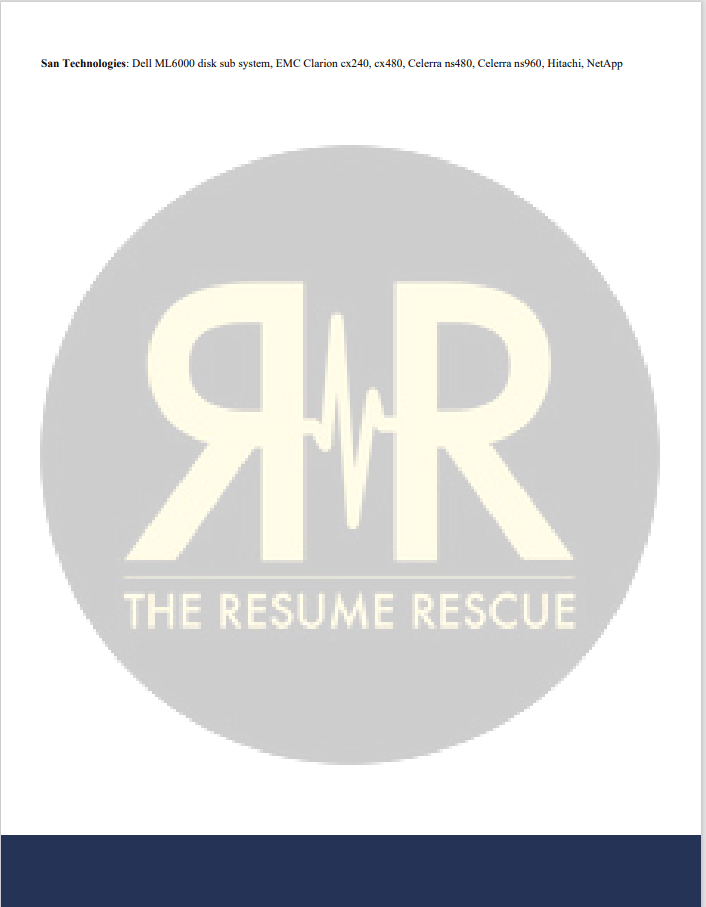 How To Design Your Executive Resume
The design of your executive resume can also play an important role in making it stand out. Here are some tips for creating an effective document:
Choosing an Appropriate Design
When it comes to the design of your executive resume, choose a format that is professional and easy to read. Consider using a template to make sure all the necessary information is included in the most appropriate format.
Tips for Using Color and Fonts Effectively
When using color and fonts on your executive resume, be sure to keep it consistent throughout the document. Use colors that are easy to read, and select font sizes that make the text easier to read.
Making It Visually Appealing and Professional
To make your executive resume visually appealing, consider adding subtle elements such as accent colors to highlight your work experience and qualifications. This can help draw the attention of employers and make them stand out from other applicants.
Leveraging our professional resume-writing services can also help you create an effective executive resume that showcases your qualifications and experiences. Our team of experienced writers will work with you to create a customized document that could move you further along in the hiring process.
How To Edit and Proofread Your Executive Resume
The importance of editing and proofreading your executive resume cannot be overstated. Here are some tips for making sure your document is polished and professional:
The Importance of Editing and Proofreading
Editing and proofreading are essential steps in the resume-writing process. Take some time to review your executive resume, ensuring all information is accurate and up-to-date. This will also help you to identify any errors or typos that may have been missed in the initial writing process.
Tips for Editing Your Resume for Content and Grammar
When editing your executive resume, be sure to focus on the content as well as grammar. Make sure all information is relevant and accurate, and double-check for any errors in grammar or punctuation.
How To Proofread Your Executive Resume for Typos and Errors
Finally, carefully proofread your executive resume once all updates have been made. Pay close attention to details such as typos, misspellings, and incorrect punctuation. This will help ensure that the final version of your executive resume is professional and error-free.
Conclusion
Creating an effective executive resume is a must for standing out from the competition. By following these tips, you can ensure your document reflects your skills and accomplishments in the best way possible. Always remember to edit and proofread your resume to make sure it's accurate and free of any typos or errors.
Taking the time to craft a professional resume can help you capture the attention of employers and make your experience stand out from other applicants. With a well-designed and polished document, you'll be ready to take on the challenge of landing an executive role.
To save you time and money, we recommend that you work with a professional resume writer. Here at The Resume Rescue, we specialize in creating resumes that are tailored to the specific needs of executives. Schedule your free consultation today to get started on your executive resume!